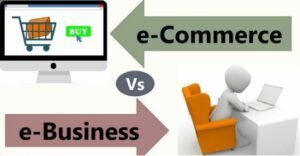 Online Business or e-business is any kind of business or commercial transaction that includes sharing information across the internet. Commerce constitutes the exchange of products and services between businesses, groups and individuals and can be seen as one of the essential activities of any business.
Electronic commerce focuses on the use of ICT to enable the external activities and relationships of the business with individuals, groups and other businesses, while e-business refers to business with help of the internet.
Electronic business differ from electronic commerce as it does not only deal with online transactions of selling and buying of a product and/or service but also enables to conduct business processes
inbound/outbound logistics
manufacturing & operations
marketing and sales
customer service
within the value chain through internal or external networks. The term "e-business" was coined by IBM's marketing and Internet team in 1996.
How secure is an e-business?
---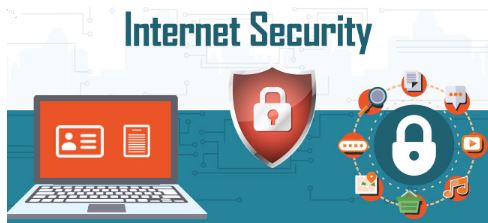 E-business systems naturally have greater network security risks than traditional business systems, therefore it is important for e-business systems to be fully protected against these risks.
A far greater number of people have access to e-businesses through the internet than would have access to a traditional business. Customers, suppliers, employees, and numerous other people use any particular e-business system daily and expect their confidential information to stay secure.
Hackers are one of the great threats to the security of e-businesses. Some common security concerns for e-businesses include keeping business and customer information private and confidential, authenticity of data, and data integrity. Some of the methods of protecting e-business security and keeping information secure include physical security measures as well as data storage, data transmission, anti-virus software, firewalls, and encryption to list a few.
Traditional business systems consists of the policies and practices adopted to prevent and monitor:
unauthorized access
misuse
modification
or denial of a computer network and network-accessible resources
Network security involves the authorization of access to data in a network, which is controlled by the network administrator. Users choose or are assigned an ID and password or other authenticating information that allows them access to information and programs within their authority. Network security covers a variety of computer networks, both public and private, that are used in everyday jobs:
conducting transactions
communications among businesses
government agencies
and individuals
Networks can be private, such as within a company, and others which might be open to public access. Network security is involved in organizations, enterprises, and other types of institutions. It does as its title explains: it secures the network, as well as protecting and overseeing operations being done. The most common and simple way of protecting a network resource is by assigning it a unique name and a corresponding password.
E-commerce
---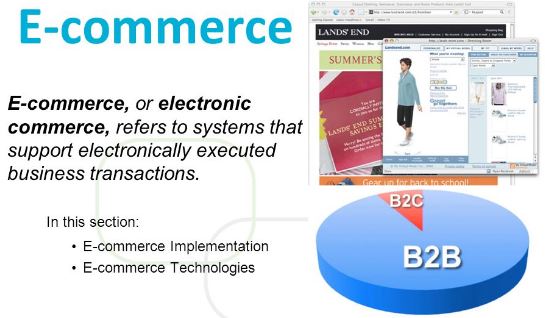 Electronic commerce is the activity of electronically buying or selling of products on online services or over the Internet. Electronic commerce draws on technologies such as:
mobile commerce
electronic funds transfer
supply chain management
Internet marketing
online transaction processing
electronic data interchange (EDI)
inventory management systems
and automated data collection systems
E-commerce is in turn driven by the technological advances of the semiconductor industry, and is the largest sector of the electronics industry.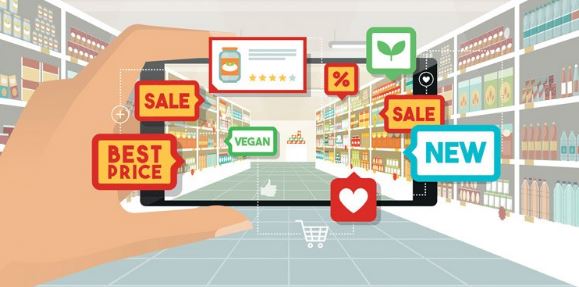 Modern electronic commerce typically uses the World Wide Web for at least one part of the transaction's life cycle although it may also use other technologies such as e-mail. Typical e-commerce transactions include the purchase of online books (such as Amazon) and music purchases (music download in the form of digital distribution such as iTunes Store), and to a less extent, customized/personalized online liquor store inventory services. There are three areas of e-commerce:
online retailing
electronic markets
and online auctions
E-commerce is supported by electronic business.
E-commerce businesses may also employ some or all of the followings:
Online shopping for retail sales direct to consumers via Web sites and mobile apps, and conversational commerce via live chat, chat-bots, and voice assistants
Providing or participating in online marketplaces, which process third-party business-to-consumer (B2C) or consumer-to-consumer (C2C) sales
Business-to-business (B2B) buying and selling;
Gathering and using demographic data through web contacts and social media
Business-to-business (B2B) electronic data interchange
Marketing to prospective and established customers by e-mail or fax (for example, with newsletters)
Engaging in pretail for launching new products and services
Online financial exchanges for currency exchanges or trading purposes.
E-commerce Logistics
---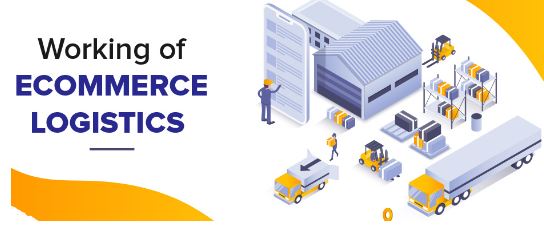 Logistics in e-commerce mainly concerns fulfillment. Online markets and retailers have to find the best possible way to fill orders and deliver products. Small companies usually control their own logistic operation because they do not have the ability to hire an outside company. Most large companies hire a fulfillment service that takes care of a company's logistic needs.
Contrary to common misconception, there are significant barriers to entry in e-commerce. In theories of competition in economics, a barrier to entry, or an economic barrier to entry, is a fixed cost that must be incurred by a new entrant, regardless of production or sales activities, into a market that incumbents do not have or have not had to incur.
Online
Advantages & Disadvantages
---
Advantages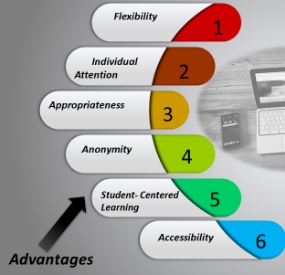 When looking at e-Business we have many advantages, which are mostly connected to making doing business easier. The benefits of implementing e-Business tools is in the streamlining of business processes and not so much in use of technology. Here are some:
Easy to set up: electronic business is easy to set up even from home, the only requirements are software, a device and internet connection.
Flexible Business Hours: There are no time barriers that a location-based business can encounter since the internet is available to everyone all the time. Your products and services can be accessed by everyone with an internet connection.
Cheaper than Traditional Business: Electronic business is less costly than a traditional business, but it is more expensive to set up. Transactions cost are also cheaper.
No Geographical Boundaries: The greatest benefit is the possibility of geographically dispersion. Anyone can order anything from anywhere at any time.
Government Subsidies: Digitization is very encouraged by the government and they provide necessary support.
New market entry: It has a great potential to enable an entry to a previously unknown market that a traditional business could not.
Lower levels of inventory: Electronic business enables companies to lower their level of inventory by digitalizing their assets. (i.e.: Netflix does not sell anymore physical DVD's but proposes online streaming content instead).
Lower costs of marketing and sales: E-commerce allows the actors of the industry to advertise for their product/service offer (i.e.: house rental) at generally lower costs than by promoting physically their business.
Disadvantages
Despite all the advantages there are also some disadvantages that we need to address. The most common limitations of electronic business are:
Lack of Personal Touch: The products cannot be examined or felt before the final purchase.  In the traditional model, we have a more personal customer experience, while in electronic business that is mostly not the case. Another missing factor of personal touch could also be in online transactions.
Delivery Time: Traditional business enables instant satisfaction as you obtain the product the moment you purchase it, while in electronic business that is not possible. There will always be a waiting period before you receive the product. For example, Amazon assures one-day delivery. This does not resolve the issue completely, but it is an improvement.
Security Issues: Scams could be mentioned as a factor for people's distrust in electronic business. Hackers can easily get customers' financial and personal details. Some customer still finds it hard to trust electronic businesses because of the lack of security, reliability and integrity issues.
As we have learned, electronic business differ from electronic commerce, and they both have their advantages and disadvantages. Hopefully this has helped you with additional information that you might not have already known.
I hope that you have really enjoyed this post, you might also be interested in other information which can be found in JMJ45TECH's ONLINE STORE.
Please Leave All Comments in the Comment Box Below ↓
---