Name: Jaaxy

Website: jaaxy.com
Price: Starter Plan – Free; Jaaxy Pro – $49 monthly; Jaaxy Enterprise – $99 monthly
Owners: Kyle and Carson, the co-owners of Wealthy Affiliate and SiteRubix, built Jaaxy as a keyword search tool for Wealthy Affiliate members, and other affiliate marketers who are trying to rank their sites on Google, Bing, and Yahoo search engines.
Overall Rank: 90 out of 100
The Jaaxy Research Tool Sign-Up
The Jaaxy Research Tool Upgrade Page
The Jaaxy Keyword Search Page
This post contains affiliate links, which mean if you use these links to purchase an item or service I receive a commission at no extra cost to you. Visit my Affiliate Disclaimer page here.
Jaaxy, Product Overview
---

Jaaxy is a great keyword researcher, and the industry's only keyword and research platform that can cause affiliate marketers to rank fast with almost no effort, because it was developed by affiliate marketers for affiliate marketers.
There are an incredible number of hands on processes and lots of homework that must be done which are both very time consuming when it comes to your business.
Keyword and competition research, through Jaaxy the keyword research tool can now be a breeze!
With Jaaxy, It's not a stretch to say, you are getting the most advanced, yet useful platform in the world for managing the backbone that websites are built on, that are all aspects of keyword, website, competition, and market research.
The Good & the Bad
---
The Good:
PRO #1:
With over 500 Million "brand new" search terms being searched every day, it is important that you have a keyword tool that can offer accurate traffic, competition, and domain insights into billions of keywords. Jaaxy is that tool.
PRO #2:
With the Keyword Research Tool, you are going to be able to quickly discover unique, hot and untouched keywords that you will then be able to use to drive your SEO and PPC campaigns to new heights.
PRO #3:
There are literally millions of niches online, many of which have little to no competition. Having access to the Brainstorm, Affiliate Search, and Alphabet Soup platforms within Jaaxy are going to give you true insights into brand new niches…without you having to do the dirty work.
PRO #4:
For a better word, Jaaxy is going to allow you to "spy" on your competition and probe into WHY their websites are ranking, where they are ranking, and you will get insightful data into their website's content structure, meta tags, content quality/length, back-links, ad placements, along with other information that the competition simply doesn't want you to have. Plain and simple, this information is going to give you a competitive edge.
PRO #5:
Whether you are looking for a new business idea or looking to dig into the deepest corners of your existing niche, Jaaxy is going to be your power tool.
The Bad:
CON #1:
User Interface isn't always intuitive.
CON #2:
SEO score (keyword difficulty metric) is obscure.
CON #3:
The community can become very addictive and you lose focus on building your own website.
CON #4:
The training process may take 6 months or more to train you depending on your skill set, in order to see a consistent amount of income.
Who is Jaaxy For?
---

Keyword research is a practice search engine optimization (SEO), home based businesses and other professionals online use to find and research alternative search terms that affiliate marketers and other people enter into search engines while looking for a similar subject.
Search engine optimization professionals research additional keywords, which they use to achieve better rankings in search engines. Once they find a niche keyword, they expand on it to find similar keywords. Keyword suggestion tools usually aid the process, like the Google Ads Keyword Planner, which offers a thesaurus and alternative keyword suggestions or by looking into Google Suggest.
With Jaaxy you have access to one of the most critical, yet hardest to discover metrics. The TRUE keyword competition. If you want to master keyword research and rank at will, the competition data revealed at Jaaxy for specific keywords is going to give you the true competitive edge.
Jaaxy Tools & Training
---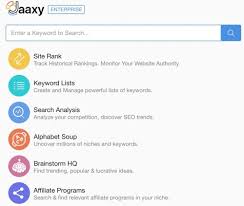 Jaaxy has a tool that shows you over 500 million BRAND NEW keywords, and how to find a website's keywords searched every day in Google alone. The reality of the keyword market is to truly leverage the billions of keywords in existence, a keyword tool like Jaaxy. Jaaxy is saying that it is very easy to rank for every single one of those keywords
If you type in a specific URL instead of a keyword, then Jaaxy can give you a list of keywords that the URL is ranking for. With Jaaxy you are going to be able to efficiently analyze rankings across ALL search engines.
This video will show you more Tools & Training on How to use Jaaxy and find keywords
Jaaxy Support
---
Those at Jaaxy are a proactive, reactive, an innovative team with the goal of making the keyword research tools competitors Internet business world a much more efficient one through their technologies.
Simply put, Jaaxy love everything about technology but support and customer feedback is at the forefront of any improvements and innovations that take place. If you need a hand with your Jaaxy account or you have any feedback, suggestions for improvements, or would like to give Jaaxy a "what's up", under the Contact Tab, they would love to hear from you.
Jaaxy Price
---
STARTER

best to try Jaaxy service

30 Keyword Searches
20 Search Results
Website Analyzer
Affiliate Program Finder
Keyword List Manager
Brainstorm Idea Feed
Keyword Competition Data
1x Speed
Affiliate Program
30 Site Rank Analysis Scans
Pro

Most popular for New websites

Everything From STARTER
Sortable Search Results
Unlimited Search History
Search Analysis
Manual QSR Search
Manual Domain Search
Alphabet Soup (15/letter)
2x Multi-Threaded Search
2K Site Rank Analysis Scans
Enterprise

for Power users

Everything From PRO
35 Search Results
5x Speed
Automated QSR
Automated Domain Search
Alphabet Soup (50/letter)
5x Multi-Threaded Search
Unlimited Keyword Lists
10K Site Rank Analysis Scans
Here you will find a preview of cost and benefits of The Jaaxy features
My Final Opinion of Jaaxy
---
Jaaxy is a legit keyword search tool, that has been in operation for over ten years. Jaaxy is a trusted company, used by thousands of marketers on a daily bases.
Jaaxy is a really good fit for newbies, especially if you have Jaaxy Lite which comes free if you have a membership with Wealthy Affiliate. Jaaxy provides a ton of unique, keywords with very low competition. To do really well, you just have to keep working hard on creating lots of content to help your whole website rank in the search engines.
Starting with a Starter account may be the best bet, because it is free, and it is also an introduction to Jaaxy Keyword Research Tool. Jaaxy definitely helps you to find affiliate marketing keywords that you can monetize.
Jaaxy at a Glance…
---
Name: JMJ45TECH AFFILIATE MARKETING
Website: jaaxy.com
Owners: Kyle and Carson, the co-owners of Wealthy Affiliate and SiteRubix, built Jaaxy as a keyword search tool for Wealthy Affiliate members, and other affiliate marketers who are trying to rank their sites on Google, Bing, and Yahoo search engines.
Price: Starter Plan – Free; Jaaxy Pro – $49 monthly; Jaaxy Enterprise – $99 monthly
Overall Scam Rank: 0 out of 100
VERDICT: 100% LEGIT
The Jaaxy Research Tool Sign-Up
The Jaaxy Research Tool Upgrade Page
The Jaaxy Keyword Search Page
I hope that you have really enjoyed this post,
Please Leave All Comments in the Comment Box Below ↓
---